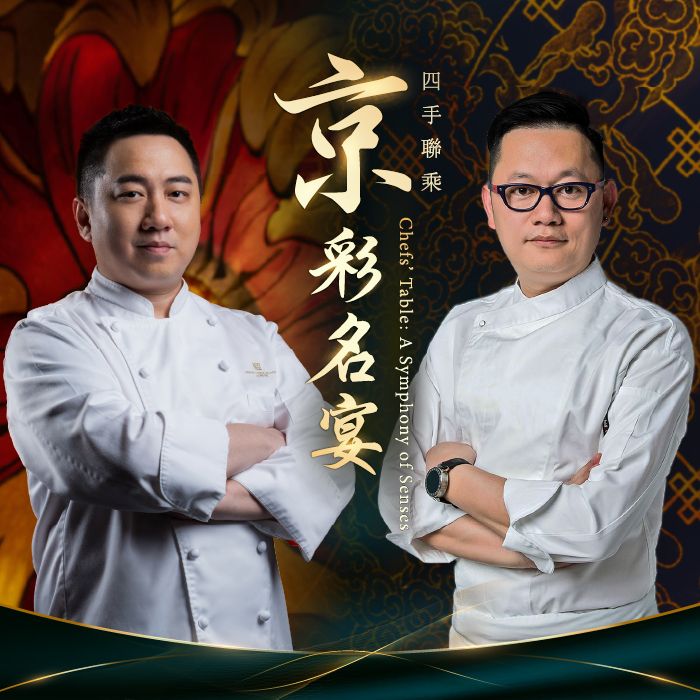 Chefs' Table: A Symphony of Senses
Get ready to experience a culinary masterpiece where inherited traditions meet contemporary interpretations in "Chefs' Table: A Symphony of Senses" presented by SJM Resorts. Enjoy an indulgent evening of edible artistry with an eight-course feast prepared by Seven Villas Hangzhou's General Manager and Executive Chef Yu Bin, who has gained renown for his expertise with innovating Jiangnan cuisine, and Palace Garden Head Chef Ken Chong, an expert as preserving the essence of traditional Taishi gastronomy. With consummate flair and meticulous technique, the two chefs will curate a splendid epicurean journey filled with creative sparks and collaborative genius.
As General Manager of the Seven Villas Hangzhou resort, Chef Yu Bin is the Executive Chef of Jie Xiang Lou, which has received the prestigious Black Pearl Two Diamond rating from the Black Pearl Restaurant Guide. Believing that tradition and innovation can lead to great discoveries, the chef is known for interpreting traditional dishes with contemporary cooking techniques and modern twists. For his skill and creativity, he has been recognized with the Best 50 Chinese Top Chef and Chinese Golden Chef awards.
Palace Garden Head Chef Ken Chong possesses almost 20 years of experience in reinterpreting the authentic flavours of rare royal Cantonese dishes from the Qing Dynasty, introducing contemporary approaches and techniques that preserve their true essence. He specialises in creating exquisitely prepared and presented Taishi cuisine that is transformative in taste, aroma and appearance.
Event Details:
Date: 1 to 3 December 2023
Time: 6:30 p.m.
Venue: Palace Garden, Grand Lisboa Palace Resort Macau
Price:
MOP3,388+ per person
MOP4,688+ per person with premium wine pairing