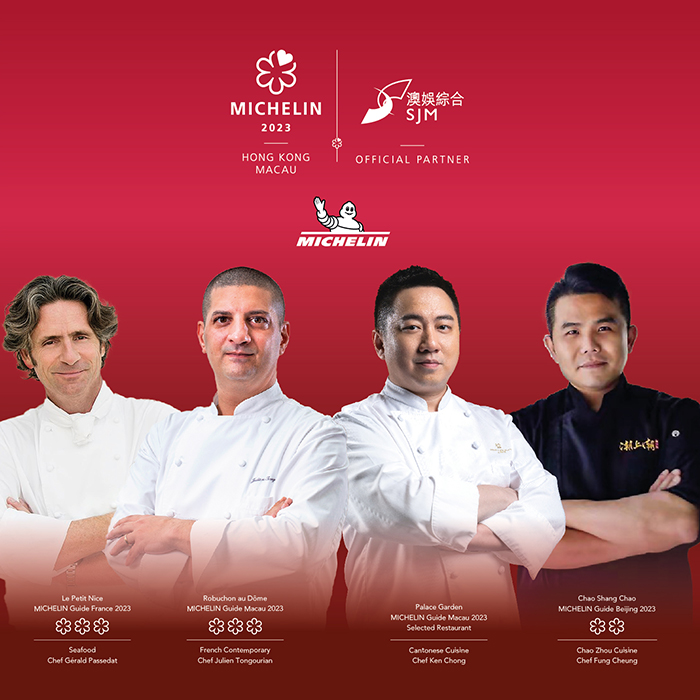 Experience MICHELIN Excellence with Collaborative Dinners at SJM
As the MICHELIN Guide's official partner in Macau, SJM celebrates the city's vibrant gastronomy. After co-hosting this year's MICHELIN Guide Ceremony, SJM presents its MICHELIN Star Table dinner series in Macau. In addition to showcasing the city's culinary innovation and excellence through globe-trotting collaborations between acclaimed chefs, this exciting series will promote the government's policy of "tourism + gastronomy" and Macau's status as a UNESCO Creative City of Gastronomy.
The first MICHELIN Star Table has presented an exclusive six-course dinner of tantalising refined Cantonese and Chaozhou cuisine in September. Embark on a culinary odyssey with the famous Taishi dishes Premium Snake Bisque and Crystal King Tiger Prawn, as well as the Chaoshan dishes Crispy Sea Cucumber with Bitter Melon, and Wagyu Beef Trio. Working in tandem, Chef Ken Chong from MICHELIN-selected restaurant Palace Garden and Guest Chef Fung Cheung from two MICHELIN Starred restaurant Chao Shang Chao created a symphony of flavours throughout your unforgettable sensory journey.
In November, French cuisine will take the spotlight with a six-course dinner featuring best-in-class French gastronomy. For this event, Chef Julien Tongourian from Robuchon au Dôme, which has maintained three Michelin Starred for 15 consecutive years, will join forces with Guest Chef Gérald Passedat from three Michelin Starred restaurant Le Petit Nice in Marseille.
Date: 15 and 16 November 2023
Venue: Robuchon au Dôme, Grand Lisboa Macau
Stay tuned for more details about November event.