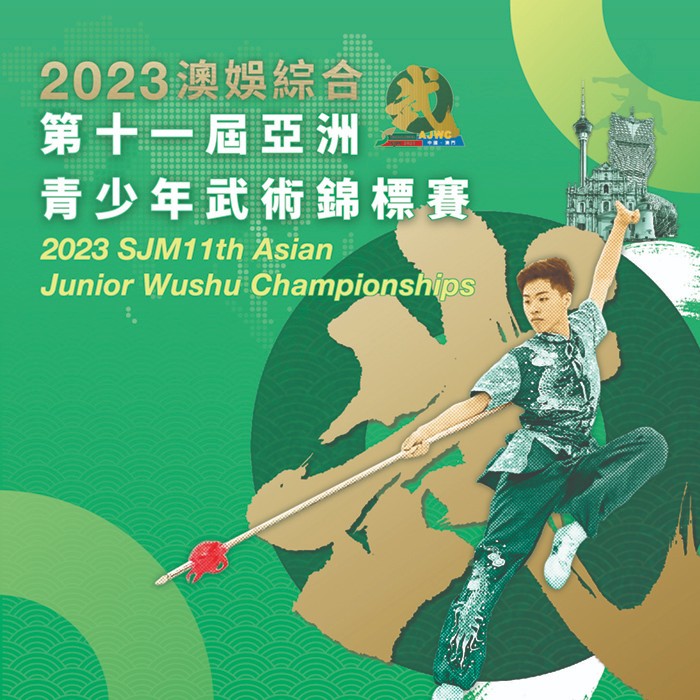 SJM 11th Asian Junior Wushu Championships
Join SJM Resorts as we salute Chinese martial arts and the spirit of competition as title sponsor of the 2023 SJM 11th Asian Junior Wushu Championships. Organised by the Wushu Federation of Asia and undertaken by the Associação Geral de Wushu de Macau, this competition will feature young athletes from 23 countries and regions as they compete for titles in the Taolu and Sanda categories.
SJM is committed to fostering Macau's sports development and nurturing its future athletes. In hosting these championships, SJM offers a platform for the world to celebrate not only the remarkable talent, dedication and cultural diversity of these athletes, but also the long tradition and ingrained cultural values of Chinese martial arts. Come cheer on this pinnacle Wushu event with SJM in Macau.
Competition date: 17 to 20 August 2023
Competition venue: Tap Seac Multisport Pavilion (Hall A)
Ticket Details:
Tickets will be available to the public for free. Starting from 14 August, the tickets can be collected at various locations, including SJM's Grand Lisboa Palace Resort (Level 1, Mall Concierge), Grand Lisboa Hotel (Hamper House at hotel lobby), and Kam Pek Community Centre. Moreover, we welcome associations and schools to attend as groups through registering (macauwushu@gmail.com) with WGAM. This is an opportunity not to be missed by those who have an affinity for wushu or love to witness the action.
Ticket distribution locations: 
Level 1, Mall Concierge, Grand Lisboa Palace Resort Macau
Hamper House, Grand Lisboa Hotel
Kam Pek Community Centre
More Information about the Event: