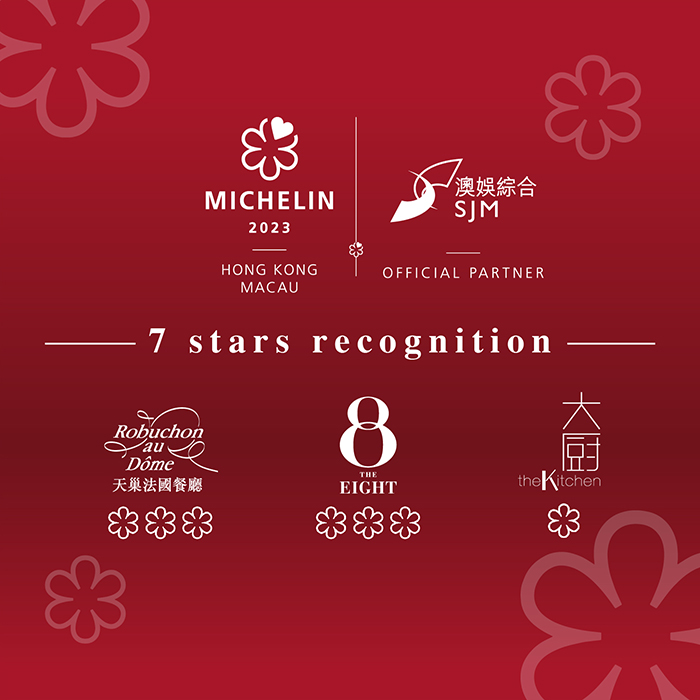 Home
SJM Celebrates MICHELIN-starred Culinary Excellence
SJM Celebrates MICHELIN-starred Culinary Excellence
This year, SJM Resorts, S.A. joined forces with the MICHELIN Guide Hong Kong and Macau to celebrate the vibrant culinary culture of Macau. As the Guide's official partner, SJM was pleased to co-host the MICHELIN Guide Ceremony's return to a physical format, where the latest Michelin star awards were unveiled on 26 April 2023.
As the MICHELIN Guide Hong Kong and Macau attests, Grand Lisboa Hotel continues to earn high accolades and recognition in Macau, with continuing its restaurants longstanding record of consecutive honours this year with a total of seven MICHELIN stars. Through its wide variety of extraordinary cuisines and an acclaimed wine programme, SJM offers top-ranked dining experiences that set the benchmark for the city's culinary landscape.
Building on this culinary legacy of greatness, SJM will continue to celebrate the city's gastronomic culture and elevate Macau's reputation as a UNESCO Creative City of Gastronomy ever higher by promoting local culinary talent, pushing the boundaries of innovation, and supporting the promotion of "tourism + gastronomy" as Macau establishes itself as a world centre of tourism and leisure.