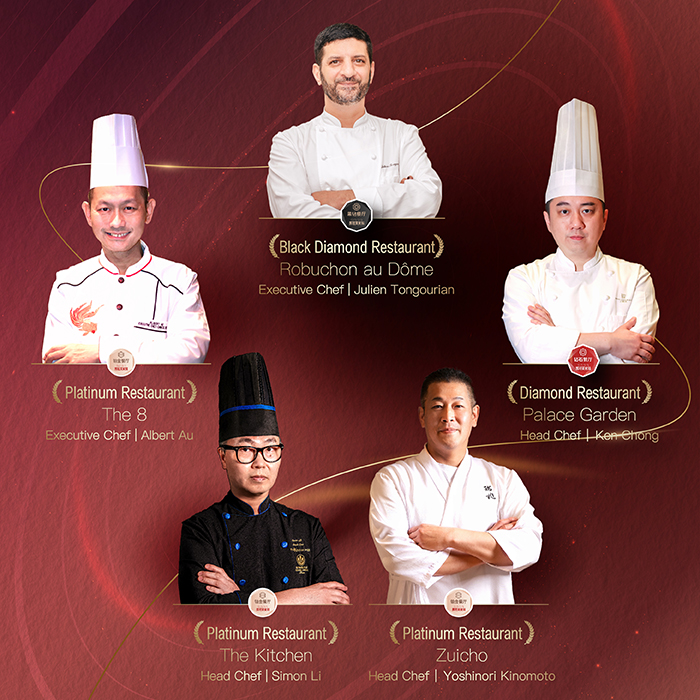 Home
SJM Resorts Honoured on Trip.com Gourmet Restaurant List 2023
SJM Resorts Honoured on Trip.com Gourmet Restaurant List 2023
SJM Resorts is delighted to announce that our restaurants have received new recognition for their gastronomic excellence on Trip.com Gourmet's Top Global Restaurant List 2023. The total 5 awards won collectively by our signature restaurants at Grand Lisboa Hotel and Grand Lisboa Palace Resort Macau stand testimony to our long-standing position as leaders in fine dining experiences in Macau.
At Grand Lisboa Hotel, Robuchon au Dôme received its first Black Diamond award, the list's premiere honour, bestowed on only two restaurants in Macau this year. In addition, The 8 and The Kitchen each earned their third consecutive Platinum award. New to the list in 2023 are two destination restaurants at Grand Lisboa Palace Macau, where Palace Garden has been honoured with a Diamond award, and Zuicho has received a Platinum accolade.
SJM is honoured to be included on this prestigious list, and will continue to pursue excellence in dining as part of our mission to elevate Macau's reputation as a UNESCO Creative City of Gastronomy and support the promotion of "tourism + gastronomy" as Macau establishes itself as a world centre of tourism and leisure.